Jaclyn Swedberg, Miss April 2011, poses on my Harley
Contents
I was one of three very lucky individuals to have the honor and privilege of the gorgeous Jaclyn Swedberg posing on my bike. Tons of people ask me how I got there and what happened that day, so here it is.
The "How It Happened" is probably boring if you don't know me, fair warning.
I know what it's like to know what happened, so "The Show" section is a full blow-by-blow in as much detail as I can remember.
And yes, I usually do reviews of my international travels, or my tours with Metallica... but this definitely is just as high on the awesome scale and needed a writeup.
It's worth noting that most of the photos here are mine, but I filled in many gaps by borrowing generously from the official photos from the PBMS blog. If you want more photos, be sure to check their page out as well.
If you got here from Jaclyn's FB page or PBMS, you may want to skip to the show.
If you already know the story behind the contest, you probably want to skip to the show.
If you don't care about my writeup at all, you can skip to where the pictures start.
PBMS
Ever since I got my car, which came with Sirius satellite radio, I've been listening to the Playboy Morning Show on Playboy Radio. To be honest, I'm not a huge fan of most of the stuff on the station, but the Morning Show is stellar. It's of course got the requisite boobs (though you have to visit the blog to see them, since it's radio), sex talk, and comedy, but it's also got some really unique segments, is often intelligent and witty, and is all around fantastic entertainment that makes my 45 minute ride to work much better.
For the purposes of telling this story you need to know the following people: Kevin and Andrea host the show (Andrea is also a Playboy model), Gina is the executive producer, I don't know Jenn's title, but I believe she's also a producer, and Jaron is the sound engineer.
The show runs from 7am - 10am every day, but I'm only in my car from 9:15am - 10am every day, so I miss a lot of each show. I often come in in the middle of a segment, interview, or discussion.
The Contest
On Monday, April 4th, I got in my car, and as I was getting on the highway, I heard the tail end of Kevin telling listeners to send in pictures of their bikes for a chance to have Jaclyn Swedberg - this month's playmate - pose on it. Of course I missed any details on the requirements of the photo, the deadline, or anything else, but I knew instantly I'd be entering one way or another.
I need to pause here and note that the moment I saw Jaclyn's pictorial, she became my new favorite playmate. That's a "title" (if you will) that hasn't changed in exactly eight years since Miss April 2003 (and Playmate of the Year 2004) Carmella DeCesare (her Wikipedia picture is pretty bad, I assure you, she's hot). I can't pinpoint the exact reason why. While every Playmate is hot, only a select few manage to have an alluring look on their face in their photos, and even fewer still can do that while also looking innocent. Jaclyn nailed that. Her incredibly skinny body that somehow also has a great ass and fantastic perky breasts helped. The fact that she posed on a bike so similar to mine probably helped. Her resemblance to my long-time-crush Summer Glau probably didn't hurt. Maybe it was all of these, or maybe it was none of them; I don't know. What I do know is that she was instantly my new favorite.
So, when I heard Kevin say this, my heart skipped a beat. The chances of winning were beyond small, but that would be an amazing experience! Anyway, I emailed myself - while driving - to make sure I didn't forget to take some pictures of my bike. That night the PBMS blog had no details on the contest so I decided I'd wait and see if I heard any details the next morning.
I got in my car a bit early on Tuesday, just in case. And on my way to work, Kevin and Andrea mentioned the contest! There didn't seem to be a deadline in mind yet, but I got the rules, which were simple: take a picture of the bike with the April issue on it and attach the photo to an email stating why you think you should win. Interestingly, they had decided it wasn't limited to bikes. Anything with 2 wheels would qualify: bicycles, scooters, whatever. I also found out that the PBMS crew would be picking a few finalists and that Jaclyn would then pick the winner out of those finalists.
Wednesday morning I got up 20 minutes early, backed my bike out of its space, into the sun, took a soft rag to clean it up a bit and took several photos. When I got home from work I made a quick web page with all the photos, selected my favorite, attached it to an email which stated my reasons, and a link to the page with the rest of the photos and fired it off.
I really, honestly, expected that to be the last of it. I had to enter. But with PBMS having a nation-wide (at least) audience, I never thought I had a chance.
What? I might actually win?
The very next day, (Thursday, 4/7) while I was at work, I got an email from PBMS saying they were nearly done narrowing down the finalists, but they wanted to make sure everyone could make it to the photo shoot which had now been scheduled for Thursday, April 14th at 8am (in Los Angeles). I paused: getting my bike down to LA for a Friday shoot or a Monday shoot would be tough but doable, but a Thursday shoot with only a week's notice was going to be really difficult given that I already had a negative vacation balance. I also wondered how my sprained wrist would react to 7 hours of abuse. Then I freaked: they wouldn't be emailing me unless I was likely to be a finalist - I'd made the first cut!
That afternoon I found my boss, pulled him into a conference room and explained the situation and he agree to let me go. I immediately emailed PBMS back saying I would of course make it if I was selected.
Because of that email, I expected finalists to be announced the following morning. When I got up I immediately checked for an email: no email. When I got in my car all I wanted was for them to give some details on the contest. Finally, Kevin mentioned that they would be taking submissions through the end of the weekend. Damn, I wouldn't find out until Monday.
Monday morning I woke up, and again, immediately checked my email: no email. I got ready as fast I could and got into the car to hear Kevin announce they had extended the deadline one extra day and would take submissions through the end of the day. I didn't hear why, but I'd later find out it was because they had decided to narrow the requirements to just motorcycles. The suspense was killing me!
The finalists are announced...
Tuesday morning I get up at my usual 8:11am - more than an hour into the show - and run to check my email. I have an email from Gina saying they will be announcing finalists on the show this morning and need a phone number to call me if I'm chosen. I (incorrectly) read that to say if they didn't have a number for me I wouldn't be chosen, and I've never typed my phone number so fast. I prayed they hadn't already picked winners before I got up. With the email sent off, I probably checked my phone for signal (I have poor signal in my apartment) 20 times while getting ready that morning.
I got in my car around 9am (I was rushing that morning) and they were just getting to the contest. They announced the first finalist; I didn't catch a great description of his bike, but got that it was custom built. Mine wasn't custom built, would they all be custom bikes? My heart sank. I also noticed they didn't call him, so my worry about the number was probably needless. They then decided to take a commercial break before announcing the rest. Dammit!
When they got back, Kevin asked Andrea to announce the second finalist. She goes "Phil writes in" - my heart jumped! Was it me? With the first sentence of the email, I knew it was mine. I screamed "yes!" probably loud enough for everyone on the highway for a mile in each direction to hear. As I was thinking that it was weird to hear my words in Andrea's voice, Kevin says "We have a number for this guy, lets call him." I'd listened to enough radio shows to know you need to turn your radio off when you're talking to the folks on the radio, so I hit my radio power button as my phone was ringing.
Trying to keep some composure, I took a deep breath and answered. I think I kept too much composure because Kevin asked me "were you not listening to the show?" I told him I was and I was super excited. The conversation is a bit of a blur, but Andrea said my bike was her favorite, Kevin said he'd like me to bring it into the studio and rev it up, asked me if I could still make it, said they were excited to meet me, and then it was over. I stayed on the line, Gina picked up and said she'd email me the address and details later that day.
They announced the rest of the bikes and it sounded like another Harley (no details), some military two-wheeled vehicle with guns, some bike made entirely from kitchen utensils and appliances (which was also a working stove), and of course the custom bike guy and myself. When they did the run through of all the finalists I had some how got the impression the custom-built bike was a mini-bike. So at the time, the competition seemed fairly tame with the possible exception of the military bike.
The rest of the drive was torture. I wanted to tell everyone, but I wanted to listen to the show! I need to figure out the details... I started considering where the studio might be, where I would stay, how would I clean my bike once I got to LA, what I should bring, what would fit in my saddlebags... my mind was racing.
Planning the trip
As soon as I got the office, I told my boss I'd become a finalist and I'd be going to LA. Then I IMed a bunch of friends to tell them I was a finalist, and then patiently waited for that email. I couldn't plan much until I knew where the studio was. If I had to be there at 8, with LA traffic, I wanted to be as close as possible. I had guessed Gina would send it shortly after the show. At 11am... no email. 12pm... no email. The day was incredibly busy, so fortunately I didn't have much time to dwell on it, but every 20 minutes, I'd stop and check my email, and worry a bit more. By 1:30 I was starting to worry a lot... but at 2pm sharp an email came in. The email said the details were in the attached document, but there was no attachment! I was already on my way to a meeting and before I could reply to the email, someone walked up to me with questions. An hour later I was out of the meeting and ran to my desk to respond... but Gina had sent another email, promptly at 3pm, this time with the attachment.
The studio was in Glendale. Crap, the one place in LA no one actually lives. After some consideration I got a hotel up the street from the studio and made arrangements to wash my bike at my friend KC's house when I arrived the next night.
The plan was to work from home the next morning, and then embark on the 7 hour ride to LA after lunch. The shoot would be the next morning, I'd do a few hours of work after that and head back up Thursday after lunch.
That night I packed and then got to bed as early as I could to be rested for what was certainly going to be a long ride.
The ride down
The next morning I got up early and ran to get some breakfast - and swing by Harley to get the skull gas cap I'd been meaning to buy. Everything helps. ;)
I left my parking lot at 1:20pm. At my first gas stop, I had a message from Jenn from PBMS asking if I was still coming; I called her back and confirmed. I'd never done more than a 1 hour and 40 minute ride. Further, I tend to do 65-70 on highways on the bike, but was averaging 80-85 due to the length of this trip. 85mph winds pushing against your chest is surprisingly more force than 70mph. After a little over two hours my back, legs, and sprained wrist started to ache. After four hours they were burning and my forearms were aching. After four and a half hours I was cold, tired, and sore and I needed a break. I stopped for the first and only time to do more than fill up the gas or go to the bathroom. I took 20 minutes to drink some coffee and stretch and then got back on the road. I arrived at KC's at about 8:30pm. We grabbed some dinner at a place we hoped would be relatively quick, but was not.
We got back around 10:30pm and then went to wash the bike. We finished a little after midnight. I washed the bugs off my helmet and jacket, and then headed to the hotel. Unfortunately the 10-to-110 interchange was closed, so by the time I got to Glendale, it was 1am. After I checked in and dropped the stuff off in the room, I headed out to go find the studio. If I was going to get lost, it was going to be that night, not the morning of the show. On the way back I picked up some breakfast, water, etc. I took a shower, stretched, got stuff ready for the morning, and by the time I got to sleep it was 3am.
My alarm went off at an unpleasant 6am. Sore, as expected, I stretched, meditated, got dressed, and headed out. I arrived at the studio just before 7:30 - 15 minutes before the 7:45am call time.
There was an area blocked off for the bikes, and Jenn was standing by to direct me to that area and then bring me inside. I parked the bike next to two others. I knew instantly that I wasn't very likely to win. The first bike was an incredible custom bike: custom tank, chassis, air filter, wheels, seat, everything. It was certainly not a mini-bike. It had a behemoth engine, with shorty pipes. This competition was anything but tame; my bike couldn't be expected to compete with this. The second bike was a fairly stock bike, but with a few customizations here and there. It was a big touring bike: it had a stereo and large hard-case saddlebags. It was bright red. Totally not my type of bike, but nice for that style. "At least," I thought, "this bike is fair competition." We were both out of our league when compared to the first one though.
But all that realization happened in seconds as Jenn walked me past the bikes, inside, and into the green room; I hadn't had much time to take a particularly good look at either of them.
Jenn introduced me to Brian and Marc, the other two finalists. It was just the three of us, the other 2 couldn't make it. After a few offers of coffee, donuts, etc., she ran back into the studio, and I made small talk with my co-finalists. Brian had trailered his custom bike all the way from North Carolina - 40 hours of driving in 2 days to make it. Marc had come - on his bike - from just outside of LA.
We briefly chatted about our bikes, and then Jaclyn walked in. She'd been given the same call time as us, and had arrived just on time. No one knew she had arrived yet, so she introduced herself to us, and grabbed a doughnut. There was some chatter about traffic sucking in LA and such, and then she saw someone run by who she waved to in order to let them know she was here. Gina then came to explain that Jaclyn was going to get interviewed, then they were going to do a phone interview with James Caan, and then we'd be brought in around 8:30.
This is what she was wearing. Unbelievably hot.
Jaclyn was taken to be interviewed and we were asked to go outside and start our bikes and be ready to rev them for the mic that had been setup. I assume this is how they returned from the commercial break. While we were waiting for the cue, we looked at each other's bikes and asked questions. I think Marc and I both knew Brian's bike was in a league of it's own. When given the sign, all 3 of us revved our bikes while Jenn held a mic in our general direction. Brian's bike - which had the biggest engine and no mufflers - was so incredibly loud I couldn't hear either of the other two bikes over it despite standing next to mine and being furthest away from his. (For those wondering, nope, that's not legal in CA, but he didn't drive it in CA.)
Back in the green room we listened to Jaclyn's interview that had already started. Kevin asked what we were like, if she had a favorite or least favorite so far, if any of us smelled, etc. She said we all seemed very nice. And then she brought up the fact that she knew one of us - but apparently not which one - had helped her get some fake profiles of her off of Facebook. One of us, she explained, works there. I admitted to my competition, that this was in fact me... though I'd been hoping to keep that fact hidden. I had started helping Jaclyn before they had even announced the competition, and I did not mention to her that I had entered until after I had been selected as a finalist - and even then only in response to a question. I didn't want her - or anyone else - to think I was attempting to get an edge. I helped Jaclyn to be nice, not for any other reason. But it was in the open now.
Andrea quickly pointed out it had to be me, because I had come from San Francisco. Then Kevin asked if there had been any awkward moments when she'd met us. She pointed out that after we all stood up to shake her hand we all stayed standing for several minutes and that it had been somewhat awkward. We all heard that and laughed and agreed we'd done that and it was weird. Her commute came up and Kevin was amazed she had woken up at 3:45am. They asked her if she'd brought outfits for the shoot, and she said she had a hot bikini and the boots from the pictorial. At this point Jaclyn was told to go change while they called James Caan for their interview with him.
Then Gina came in to explain what the plan was. But first she made sure none of us had told Jaclyn which bike belonged to which person - we assured her that we had not. She explained that at around 8:30 Kevin and Andrea would interview us, then Jaclyn would get a chance to interview us, and then she would pick which person she liked best. Then she would go look at the bikes, pick which bike she liked best, and then if they matched, that was the winner, and if not... well, they'd do something else. She gave the big disclaimer that Kevin may change things randomly and that we should roll with it if and when that happens. I was surprised they'd put her in a position to pick her favorite person, but in general, it sounded good to me.
Marc and Brian were both active military and started chatting about that... until Jaclyn ran by in a skimpy bikini prompting a sudden silence from all of us. Shortly afterward, Jaron came in to pick out a robe for Jaclyn and we gave our input (we chose the cotton one since it was cold, and she wasn't wearing much).
Then a nice guy, whose name I think was Bill, from Playboy TV came in to give us a heads up they'd be filming this for the World of Playboy show on Playboy TV, which apparently Hef is a fan of. The footage would be edited into a 30-60 second news-style clip. He assured us he wouldn't make us look bad. We said thanks and he disappeared.
The interview with James Caan ran quite long and we didn't end up going in until around 9am. We were brought into the control room where Jaron and Jenn were working various things, and Jaclyn was sitting, in a robe, on a stool. The room was clearly made for 3, not 7, and Gina pointed out this is why they had the green room. Kevin was recapping the contest. He talked about some of the more bizarre entries they had such as the Roomba which they had to disqualify once they found out Roombas have three wheels. Kevin also mentioned that apparently we couldn't rev the bikes anymore because a press conference was going to start at 9 for the end of the long-running TV show, "All My Children."
Then Jaclyn was given some headphones which were supposed to prevent her from hearing the interview Kevin and Andrea would do with each of us - but in reality, it was very clear she could hear everything. Fortunately for Marc, this became clear only after he had been brought into the studio room. Marc was introduced and brought into the studio, and then Jaron pointed out the headphones Jenn gave Jaclyn were not the noise-canceling ones. Those, it seemed, were in the studio. Gina attempted to retrieve them, but could not do so without crossing in front of the cameras, and thus came back empty handed.
Meanwhile, Kevin and Andrea were interviewing Marc. Of the questions asked, one was what are your favorite and least favorite parts of the show. I didn't hear the question, but as Brian, Jaclyn and I were chatting, Gina noted that Andrea was getting topless and if we wanted to watch we were welcome to take a few steps over so we could see through the window. Which we did. After that, from context, I got that Marc's favorite part of the show was Andrea's "wub wub" - where she slaps a mic between her boobs. Andrea then performed her "pattent-pending wub wub" (Kevin's words) live for Marc. Seeing that in person was pretty awesome.
A moment later I was introduced, with Andrea reading my email again. I walked in to Kevin saying, "Now this guy has the biker look! Chain wallet, tattoos, black pants, black shirt!" I sat down and was asked how long I've listened (4 or 5 months), my favorite and least favorite parts of the show (Andrea's laugh, and bad interview subjects, respectively), how long I've had my bike (since end of January), and a few other things. Then Brian was introduced. He was asked a question or two and then Kevin started directing questions at all of us: What would we do with the photos if we won? Have we jerked off to Jaclyn's pictorial? Which was our favorite picture? Kevin prefaced the jerking off question by noting he had done it to help encourage honesty. Brian and I admitted to it, but Marc didn't. I don't think any of us believed him though. :)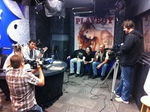 At some point during this, Kevin made a point of noting that I was grinning ear to ear - and I wondered how the other guys weren't.
Kevin's final question was, "Is Jaclyn the hottest girl who will have been on your bike." I noted that she was the only girl who will have been on my bike yet, and Kevin asked how I have not had any girls ride with me on my bike. I explained I'd just moved to San Francisco and didn't know many people yet, and Kevin excitedly pointed out that if I won not only would I be getting a hot playmate on my bike, but Jaclyn would be christening my bike!
Then Jaclyn was brought in and Kevin informed her 2 out of 3 of us have jerked off to her. They agreed this was the ultimate compliment. Kevin asked several questions with Jaclyn present, one of which was, "If Jaclyn said she was willing to be your girlfriend, but felt motorcycles were dangerous, would you sell your bike to date her?" Brian immediately said no. Kevin then asked me the question, but specified this time "and she guarantees to have sex with you and give you blowjobs"... riding is pretty important to me, and I really don't know if I'd give it up for someone, but when he worded it like that, I said, "well, if you put it like that, yes!" In reality, I don't know that either a yes or no would have been truthful. And that irked me. I was attempting to be honest, but that's a question that would depend on the situation. Marc also said no. I probably came off looking a bit bad - in particular conviction- or backbone- lacking - there. But I'm pretty sure those who know me would argue those are two things I'm not short on.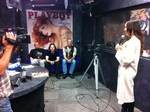 At some point Kevin was explaining to Jaclyn that this was going to change the winner's life... it would be an significant part of their life and something they'll share with everyone who will listen. Jaclyn made a point to say that either way she was going to take a few pictures on the 2 bikes she didn't pick as well. Kevin objected saying "No, that's not allowed." Jaclyn asked why not, and he said, "They can have Jaron pose on their bike." Andrea noted that that would be a punshment not a consolation prize and Jaclyn volunteered her bikini for Jaron to wear.
Jaclyn was then asked to take her robe off (revealing her super hot, skimpy, bikini) and Kevin asked each of us what our first reaction was. These were all varying takes on "wow" "woah" "oh my god" and the like. Apparently Kevin thought mine was creepy... which didn't bother me - I expected a few quips from Kevin - but it did make me want to hear what sound I made, because I have no idea what it was other than in-awe. He then asked each of us what our favorite part of her body was: Marc said ass, I said abs, Brian said smile. Jaclyn told us her favorite part of her body was her ass because when she was little she didn't have one and her mom called her havenoassatall (or was it gotnoassatall?).
Jaclyn then asked us two or three questions, but honestly the only one I remember is to describe why we like our bikes in a word or phrase. Kevin reminded us not to give away which bike was ours. I don't remember what Marc said, I said it feels like an extension of me - much like my tattoos. Brian said, and I quote, "it feels like seduction." I started to wonder if he was either a writer, or one of those guys who always has a cheesy pick-up line ready (that response could go either way). Kevin then said it was time for Jaclyn to pick which person she liked best and then which bike, and then directed her to go look at the bikes (which was confusing since she hadn't picked a person). He was clearly changing his mind a lot at this point though because as she turned, he told her to stay, and asked himself why he would let the hot almost-naked girl out of his sight. Instead, he decided we'd each go out and individually rev our engines, one at a time.
Some discussion ensued between Kevin and the control room (presumably Gina, but we had no headphones, so we could only hear Kevin's side), about whether we could rev the bikes given that we got yelled at already. Kevin noted that Playboy is more important than ABC and that chicks on bikes are more important than "All My Children." It was also pointed out that it was 9:30 and the press conference was likely over.
So out we went! Brian, then me, and then Marc (out of order, presumably to keep it a secret which bike was which) started, revved, and turned off our bikes in turn. Then we were told to get away from the bikes and Jaclyn came out.
At this point everyone started snapping pictures and I was bummed I'd left my camera in the green room. I started snapping photos with my phone, so hence the quality isn't awesome. I did go grab my camera before the shoot was done though.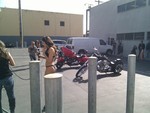 The headphones and mic didn't reach out the bikes, so Jaclyn did a bit of back and forth as she was instructed to go look at - and sit on - each bike. Kevin and Andrea were back in the studio, and Jenn was outside coordinating everything going on outside. Jaclyn spent some time with each bike and then returned to the mic to describe them. By the time she'd gotten to the second bike Jaron had added an extension to the mic, so she could talk while at the bike, but couldn't hear. Jenn would listen and direct Jaclyn who would just talk and hope she wasn't talking over anyone.
Jaclyn was a big fan of the overall look of Brian's bike, but in particular she was a fan of the length and the custom seat.
Jaclyn loved the fact that Marc's bike was red, and that his seat was particularly comfortable.
When she got to my bike she commented on its classic look and its similarities to her centerfold bike which, she noted, she had picked out (the second half of these photos are, obviously, from the PBMS photographer).
While she was sitting on my bike, apparently Kevin directed Jenn to have Jaclyn close her eyes and the owner of whichever bike she was on (remember, they could only hear what was going on) to start and then rev the bike while she was sitting on it. Man I wish I had pictures of this. I went over, started my bike and revved it while Jaclyn sat on it. She jumped at the first rev. I put a hand on her shoulder to reassure her she was fine. Several revs later, Jenn gave me the signal to turn it off. She was told to open her eyes and I was motioned to leave. I walked back over to Marc who pointed out my lights were still on. I snuck over to turn them off and when I got back realized I'd missed her picking her favorite bike (Brian's). She correctly identified Brian as the owner of the bike.
Brian was given headphones and a mic and Brian and Jaclyn answered a few questions, which judging from the answers were something along the lines of "how do you feel right now?" and "what made you pick that bike?" respectively. The answers were along the lines of "excited" and "I like them all a lot, but just really like the way this one looks." Then they asked Brian to start the bike with her on it and rev it a few times. She jumped pretty high when it started (it's an incredibly loud bike).
I'm guessing they threw to commercial break because a moment later Kevin and Andrea were outside. Then came the moment everyone had been waiting for: the photo shoot began. They encouraged Brian to direct the shoot (there was a photographer to take the photos), and he described a few poses he wanted. Jaclyn took the lead - she knew how to pose on a bike. She did countless poses and positions with everyone taking tons of pictures, including the whole crew and all of the finalists. Lacking the direction of a professional photographer, Jaclyn was the consummate professional, making sure the shoot looked good and kept moving. Andrea asked Jaclyn to do the straddle-the-bike-backwards shot from her pictorial.
And then came the moment that I think everyone had wondered about. Andrea asked Jaclyn to take off her top, to which she responded "out here?"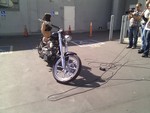 The irony wasn't lost on Jaclyn who seemed as amused by her own shyness as everyone else was. She unclipped her top, but before it came off some guy who I hadn't even noticed standing there said we couldn't do that. Andrea, ever the defender of boobs, said "she can put her hands over them, it's just implied titties!" but was shot down again. Jaclyn, ever the pleaser, left the top unclipped and said "I'll just hold it up."
Here are the official photos from the shoot. Since my photos of the shoot aren't that great, I snagged all of theirs.
She finished the photo shoot, and either they wrapped the show very quickly, or perhaps the show had wrapped before Kevin and Andrea came out, it's unclear (I hadn't been listening to them due to the hot photo shoot three feet in front of me). Someone said "OK, I think we're done" and Jaclyn very firmly said "no, I'm going to do some photos on the other bikes."
At this point I decided I had to have my camera, so I ran into get it. From here on out, the pictures are better. She started with Marc's bike - I only caught part of the shoot due to fetching my camera. I also took way more pictures from here on out because it's much easier to rapidly take pictures with a real camera.
PBMS got some good shots from the other side.
Then she walked over to my bike, asked me if I was the guy who had been helping her. I told her I was and she thanked me profusely... and then proceeded to do one hell of a fantastic shoot on my bike for me.
PBMS also took a few photos of this. In the first one, she's asking me if I was the one who helped her out, and in the second one she's clapping for me. How surreal is that? She was clapping for me. The last picture is just a funny one of us walking away.
After that, Kevin and Andrea wanted pictures with Jaclyn on the winning bike.
Then more pictures were taken: each person got a picture with Jaclyn and them in front of their bike.
We did some group photos with and without the bikes.
Marc asked Andrea for a picture on his bike, and then I asked for one on mine (I think Brian was talking to Jaclyn). Two amazing playboy models on my bike in the same day!
We then went inside where Jaclyn signed copies of the April issue (provided by PBMS) for each one of us (each of us had also brought our issues to be signed which was clearly unnecessary). Jenn also give us all some Playboy stickers.
Marc and I then got Andrea's autograph and we each got a picture with her.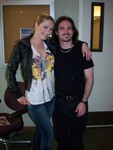 This is my April issue with both autographs - Andrea's is the top left, Jaclyn's is the bottom right.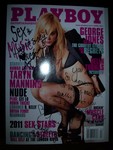 Bill then came by to say he'd get our information from Gina and send us copies of the final edited story and some stills they'd pull from the footage for us. How awesome is that?! I don't know what my rights to that footage will be, but I'll post it if I'm allowed.
And then, as suddenly as it had all started, it was over. A little over a week ago, my heart jumped as I thought of the incredibly remote possibility of having my favorite playmate - and by the few electronic exchanges I'd had with her, a smart and kind woman - pose on my bike. Now it was over. Jaclyn was gone, the doors were closed and I was getting on my bike to head back to the hotel.
You can find all of the official photos here.
The plan was to work a few hours after the shoot, and head back up after lunch. However, as I prepared to leave, I realized that I couldn't safely do a seven hour ride on three hours of sleep. I was running entirely on adrenaline, and it wasn't going to keep pumping for seven hours of sitting still. So I extended my stay by a day, worked from LA for the rest of the day, and had dinner with my best friend, Josh. I headed out at 10:15am on Friday morning and arrived at my place at 5:30pm. The ride back was just as soreness-inducing but less cold (and having a lunch break helped). However, it was all totally worth it.
A few final words and thanks...
None of this would have been possible without the lovely and beautiful Jaclyn Swedberg. Jaclyn was so sweet and kind. She took a lot of extra time out to do great photo shoots on everyone's bike and took time to chat with each of us. Not to mention a professional model who did a photo shoot for all of us, for free, from which we get to keep all the photos. Truly an exceptional and warm individual. You should check out her Facebook Page and don't forget to vote for her for Playmate of the Year 2011 when the time comes. Thank you Jaclyn!
The PBMS crew is awesome. I owe them a huge debt of gratitude for such a terrific opportunity and such a truly unique experience. They were also incredibly kind and welcoming and just all around stellar hosts. If you have Sirius or XM radio, do yourself a favor and listen to the Playboy Morning Show - 7am - 10am on XM and Sirius 99. Thank you Kevin, Andrea, Gina, Jenn and Jaron!
Last, but not least, I'd like to thank Marc and Brian. While we were all, in theory, competitors, everyone treated each other with respect. No one tried to sabotage anyone else or make them look bad. It was a pleasure meeting both of you! Congratulations again to Brian!