Istanbul -- March 2010
Table of Contents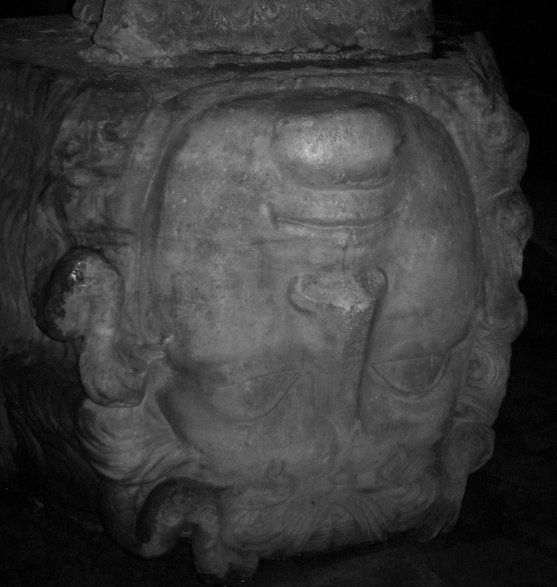 Istanbul - which thanks to the song everyone in the world knows used to be Constantinople - is an absolutely amazing city. It is the only city in the world to bridge two continents. The city has served as the capital city of the Roman, Byzantine, Latin, and Ottoman empires further cementing its place as one of the most unique cities on the planet. When I sat down to plan all of my 2010 travel, I absolutely knew Istanbul was a hard requirement.
But if all that wasn't enough, my old college buddy Alex was currently living there with his wife Tess. Being so close, I clearly had to visit at some point giving me yet another reason to visit this beautiful city.
Alex and Tess had invited me to stay in their home, and I welcome the chance to spend some extra time with Alex and get to know Tess.
I flew into Istanbul with a print-out of an email from Alex with a few Turkish words, where to buy the "visa" I'd need, and precisely what to say to the cab driver.
Much like Egypt, you technically need a visa to enter the country, but you can buy them for US $20 at the visa booth just before customs. I cleared customs easily, grabbed some local currency, and found a cab.
Alex's directions told me to tell the cabbie, "Marmara Hotel, Cihangir, lutfen!" - Marmara is a massive well known hotel where Alex would be meeting me, Cihangir is the part of town, and luften is please. The problem is that Cihangir is the apparently the part of town right next to the hotel (it's actually where Alex lives), and this endlessly confused the cabbie. After asking several other cabbies questions in Turkish I finally called Alex who smoothed things over with the cabbie and I was on my way.
Alex met me at the hotel and we grabbed some real Turkish kebabs on the way back to his place. Yummy! I met Alex's awesome wife, Tess, and the 3 of us stayed up talking until about 1. I had sightseeing to do in the morning and they had work.
I was up at a bright and early 7am, and out by 7:45. Alex and Tess live on the West (Europe) side of Istanbul, but on the North side of the river (across from the Golden Horn). Their place is at the top of a pretty steep hill, at the bottom of which you're only a few blocks from crossing the river to the "sightseeing part of town." This is the view from their patio.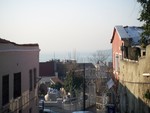 You can see that (1) it's fucking steep - down wouldn't be so bad, but I wasn't thrilled about coming back up, (2) you can see across the river to the main part of town from here (what a view!). All in all a pretty awesome location. At the bottom of the hill is a tram which leads right across the river.
The tram system - or rather the ticketing system for the tram - is quite difficult to figure out. When I finally did get on the tram, I was pretty confused. It was unclear from the map which of the two routes it was going to take, but it either way it looked like it would be around 5 stops after the bridge. Unfortunately it's quite difficult to translate the sounds you hear from the driver into the words you see on the transport map, and after 2 stops I got off hearing something that sounded a lot like where I wanted to be. It wasn't quite where I wanted to be, but there was a McDonald's there and I was starving, so I got a McMuffin and coffee.
Post-coffee I realized I didn't have any clue where I was, but there were sighs to Hagia Sofia, one of the big mosques I was heading to, so I followed them. Several twists and turns later, I passed a small mosque thinking it might be the Blue Mosque or Hagia Sofia. HA! Both of them are so incredibly massive, had anyone known I was thinking that they would have never stopped laughing. Given that they were supposed to be right across from each other I decided to walk up the street a bit more looking for the counterpart mosque to make sure I was in the right place.
A block later I understood.
That is Hagia Sofia. It's big. Really big. The Blue Mosque across the park from it is also quite impressively large. You can't miss them, or the lines in front of them.
At this point I consulted my favorite tour guide: my Rick Steves book, sat in the park and spent some time figuring out which of these two behemoth mosques was which, and getting my bearings. The park had awesome planters.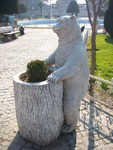 Per Steves, I started with Hagia Sofia. Rick, as usual had some great advice. Just past the ticket-takers, instead of proceeding straight to the entrance, you take a right, check out the gazebo, and then head in the exit. This allowed for a much more pleasant experience.
Hagia Sofia had quite a bit of construction going on, but even that was hard-pressed to detract from the sheer awesomeness of this place. Every square inch was packed with color, words, and pictures. The vastness of the nave was just breathtaking. Let start with the entrance - or rather the exit.
Some things to notice from the pictures above are the fact the door is no longer closeable, the incredible ceilings and the size of the hallway next to the main nave.
I took a lot of pictures of the main nave, but I'll start with a few pictures I took a bit later from upstairs to give a bit of perspective.
The first picture is upstairs in the back looking down towards the alter. The second picture is in the front looking down towards the back. The general idea here, is huge.
Below are more pictures of the nave. Note the massive medallions hanging in the corners. These have leather tightly wrapped around them and are painted. The stained glass, the old-style chandeliers, the paintings...
On the sides of the main nave were two small halls, at each end of each had an alabaster urn. They typically held drinking water for worshipers. They are Hellensitic era and brough by the sultan from Pergamon.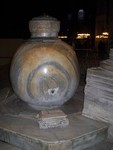 In one corner, there's a special "sweating column" or "Miracle Column of St. Gregory." The column has a small whole, and it's good luck to stick your thumb inside, and make a full circle (which can take a bit of effort and some flexibility to accomplish). It's referred to as sweating because it feels like it's wet inside, even though it's not. For centuries people believed this column "wept" holy water that could cure disease.
Heading upstairs, I noticed these occasional squares of colored marble which I thought were particularly cool.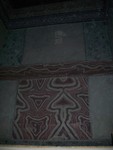 The path upstairs was pretty cool...
This was the spot was reserved for the empress' throne - directly across from the apse.
And a closer view of the domes from up here.
Here was a doorway was known as the Gate of Heaven and Hell.
And a few more random photos from that back "corner."
On my way out there was a domed structured right next to the exit... I have no idea what it was, but I found it interesting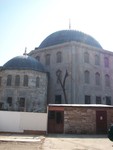 My next stop was right next to the Hagia Sofia: the Golden Milestone. This stub of once a gilded milestone showing the distances to locations around the empire. Byzantines considered this point the center of the world.
This may not seem like much, but for a long time, everything was measured from this exact point! How cool is that? This part of the world was defined by its distance from here! That's amazing.
Next on Rick's list was around the corner to the Basilica Cistern. This is a massive underground reservoir from the 6th century AD. This massive cavern at 400 yards containing 336 columns held 27 million gallons of fresh water was to be used in the case of a shortage. Eventually it was neglected and then forgotten about. One interesting thing to note is that the ceiling was dripping - water coming down from the ground above.
Of particular interest are the two columns at the far end whose bases are Medusa heads.
The Blue Mosque - the second of the two great mosques in Istanbul - was next. I arrived at 11, but it was closed until 1:30. I decided to do the nearby Hippodrome. This was just a park-ish area next to the Blue Mosque which was once a track for chariot races.
At one end of the square is the Egyptian Obelisk of Theodosius carved to honor the Egyptian Pharaoh Thutmose III (whose tomb, you may recall, I saw in Egypt). It was brought from the Temple of Karnak in Luxor, Egypt on the Upper Nile in the 4th century AD.
On the other end of the square is the Column of Constantine - also known as the Walled Obelisk - which also went up in the 4th century, but was built there in Constantinople. The cool thing about this one is that in the 10th century the column was adorned with bronze panels. However, panels were pulled down in the 13th century to make weapons. You can still see the holes in the stone where the panels were attached.
In the middle of these two is the Serpent Column which I somehow didn't take any pictures of. The serpent heads haven't been intact since the 17th century.
Also on the North end of the Hippodrome is the German Fountain - on octagonal pavilion with a green dome. It was given as a gift by the German government when Kaiser Wilhelm II visited Istanbul to convince the Ottoman Empire to be on their side in the upcoming World War I.
At 11:50 it was a bit early, but I had to wait until the Blue Mosque was open so I decided to grab lunch at the nearby Lale Restaurant, aka "Pudding Shop" where I got some decent kofta and potatoes and some great Turkish coffee. Reading my Steves' book also earned me a 10% discount.
When I left the restaurant it was only 12:30 and I still had lots of time to kill so I went to the Islamic Arts Museum near the Blue Mosque which took a surprising amount of time to find the entrance to.
The museum wasn't very large, and I managed to slowly meander through it and be out in an hour. Only a few things were of enough interest to me to snap a photo. The lion had the right mix of faded and not faded features to be moderately entertaining to me. But check out the doors!
And these were children's coffins.
Note the amazing work on the base: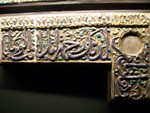 And what's left of another very old door.
And fucking hell I want this candle holder! Think they'll sell it to me? :)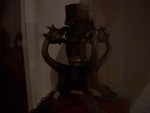 A very important key!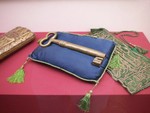 This photo doesn't capture how massive these candle holders are. That base is wider than my waist at it's thinnest point.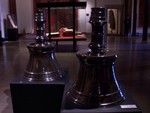 Then it was finally time to return to the Blue Mosque.
You enter through the courtyard on the side which is pretty impressive in-and-of itself.
The front 60% of the mosque is separated by a wooden railing for prayer with countless signs in countless languages to that affect. Nonetheless a handful of people climbed over purely to snap pictures. This really pissed me off.
The lighting inside is pretty funky, as you can see. The tile work is just unbelievable - check out the domes!
Many of the pillars had several fountains in them like the one you see in the last picture above.
The next stop on Rick's walk was a very large museum, but I wasn't feeling like wondering through a museum, so I started on the next walk: Old town back streets walk. First though, I stopped at Starbucks for my 3rd coffee of the day.
The first stop on this walk was an old cemetery on Divan Yolu with lots of Ottoman big shots. This headstone of a ship's sail belongs to Cudi Pasa, apparently a high-ranking official.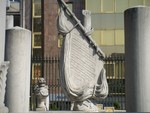 In one corner of the small cemetery is Sultan Mahmut II's mausoleum (he ruled for the first half of the 19th century). Mahmut shares this space with two other sultans and other relatives. These caskets are actually empty and the bodies are buried underground.
The next stop was Cemberlitas - a large burned column consisting of six drums held together by hoops. In the 4th century AD it held up a statue of Constantine depicted as Apollo, and later a golden cross, both of which went missing. The column once marked the center of the main square, the buildings of which no longer exist.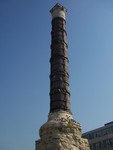 Next to the Cemberlitas was a woman feeding pigeons. She's throw out seeds constantly forcing the disease-infested fuckers to run around like crazy. Insane!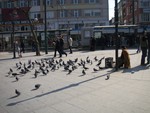 Next up was The Grand Bazaar. This place was a madhouse! A huge market spreading in all directions with tons of spices, gizmos, trinkets, meats, wines, and more! It wasn't really possible to take a picture in there, so I only have a picture of the front entrance.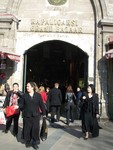 Steve's had a mini-tour through the bizarre, but it didn't seem particularly necessary, so I just got myself lost for a while. I stumbled upon a cool black knife that I considered buying but it wasn't quiet right. Then I stumbled upon an awesome skeleton knife. I negotiated him down to 35 lira.
There was a small mosque/mausoleum somewhere in the bazaar, I think, which is where these pictures came from.
Leaving the bazaar, I followed Steve through some local streets and up to the Mosque of Suleiman the Magnificent. What a title! I need a title like that. Sadly it was closed.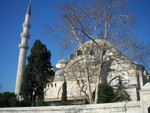 From here the streets narrow into a packed shopping district catering to locals. Toy stores and hardware stores are crammed in every corner while trucks try inexplicably to sneak their way down the tiny streets to make deliveries. The next destination, in the middle of all of this, was the Rustem Pasa Mosque. This place was the top-story of a building, and has a wall of pretty magnificent tile.
After this mosque I sat down to put my shoes on and my back froze. It took me more than 10 minutes to get up and I was in very serious pain. Once I was upright, I skipped the rest of the walk - of which the Spice Market was to be the highlight - and headed straight home. It was a painful 20 minute walk.
Some stretches and resting later, I was generally mobile again. I hung out with Alex and Tess until their friend showed up, and then we all went out to dinner. As we walked through the part of town with lots of bars and restaurants, Alex saw someone with a cowboy hat in one place and deemed that was our destination! So in we went and found a table in the corner.
This place was pretty interesting. They had a menu with a Mexican section and American section. My rum-and-coke was actually a long island iced tea. As was my second which I ordered from someone else (fortunately I like those too). My cheeseburger came sans-cheese, and they were actually pretty cool about fixing it (for all my American friends, sending things back is a very American thing to do).
At some point a waitress came over to explain to us that when they ring the bell we need to cheer loudly. OK, easy enough. A few minutes later they rang the bell and we yelled out... only to be the only ones doing so. WTF? Two minutes later they rang it like 20 times and everyone yelled out. Perhaps the first one was just a warning bell? We had to laugh.
Satiated, we went to go find a bar. This place had Captain Morgan and I enjoyed a Captain and Coke as well as 2 weird shots of Amaretto Vodka which was unbelievably good. We headed home and crashed - it was late and I had an early morning of sightseeing. Alex had agreed to get up and go with me, too!
I got up at 8 and Alex was up soon after. Our first stop was a local coffee shop for a coffee and simit (a circular bread with sesame seeds on it, or what is apparently referred to as a "Turkish bagel" in the US). The french girl who worked in the shop told us about how she needed to find an apartment. She was friendly, but a bit odd.
Our first site was Gelata Tower, and we snaked through some local streets towards it. In the window of one of the shops we saw the coolest clock, it's numbers were varying distances from the center and varying sizes. It looked like it shouldn't even work. But being Europe, of course, stores aren't open on Sundays.
From the top of the tower you have a pretty stellar view of the Golden Horn, and the rest of Istanbul.
We weaved through more local streets until we got to the bridge, stopping about half way across for some more coffee. Our next destination was the Spice Market. We walked around looking at all the many spices, and also bought some Turkish delight, which would be better if they didn't stick nuts in most of them. After the spice market we walked through the neighboring markets and picked up some lamp oil and cheese Alex needed. It was quite cool to walk through all these little streets and see all the local shop owners doing their thing.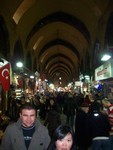 From there we took the tram uptown (to the Hagia Sophia area) to find a place to eat. We found a really cool place on the top floor of a building that had stellar views. At Alex's suggestion we had a "chili thing" appetizer which was better described as salsa but was very good. For lunch I tried Istaka Kebabs - again at Alex's suggestion and it was phenomenal! It's bread with kebabs and marinara sauce and a bunch of yogurt. Goes together far better than you'd expect. Here are the views from were we were eating.
Our next stop was Topkapi Palace. We walked around it trying to find the entrance for 20 minutes before having to go all the way back around... it was entirely unclear. We waited in a long security line, and when we get through the metal detector they asked for our tickets - which we didn't have. After fighting our way back out of the security lines we saw the ticket lines. After waiting in a long line which wasn't moving and the line next to us moving faster, we realized we were in the wrong line. The other one was - we think - for guides. Tickets in hand we braved security again.
The maps didn't match the grounds all that well and we passed the first thing we had wanted to see - the armory - then turned around, missed it again, and then found something else we wanted to see: the council chamber.
Turns out the armory was closed. Well that explains a lot. Our next stop was the Jewelry Exhibit. Unfortunately pictures weren't allowed, but this was 4 rooms starting from moderately interesting stuff and ending in an... 86 carrot diamond. Read that again. Eighty-fucking-six-carrot-diamond. Interestingly, the second-biggest diamond, which was 56 ct., looked like glass and wasn't very impressive, outside of its size. However, the 86 ct. diamond shined and sparkled like nothing you've seen before.
Our next stop was the Tulip Garden, which was sorely disappointing due to its complete lack of tulips. It had one small patch of non-tulip flowers and a lot of grass. The only redeeming quality was the view.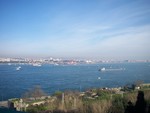 We stopped for another coffee and then headed off to the Harem Mosque, but it was also closed. However, we passed some amazing tile work on our way.
At this point we headed back to the tram stop and home.
Tess was having trouble getting the data in her spreadsheet to do what she wanted prompting Alex and I to go into math-geek mode. That evening 4 friends of Alex and Tess came over (3 of which were Canadians and 1 of which was American) and we ordered pizza and played Catch Phrase - which is basically a modified version of taboo - with Canadians vs. Americans. We drank and had fun, and Alex broke out his man-sized onesy.
We all drank and chatted. Eventually their friends left and I introduced Alex and Tess to Achmed the Dead Terrorist. Then Tess crashed and Alex introduced me to Fired Up! which is one of the damn funniest movies I've seen in a long time.
Sunday we got up and Alex and went to a nearby restaurant for breakfast while Tess stayed to work. After we got back I packed and headed up the street to the nearest Taxi stand and headed home!
Wow. I've seen a lot of Europe, and thus I've seen many churches and art museums. Istanbul offered a really great change of pace with stunning mosques, new food, and entirely different customs. It holds a truly unique place in history and I thoroughly loved my time there.
Getting to spend time with Alex and Tess was one of those amazing coincidences - we both happened to be living abroad at the same time! Alex and I immediately fell into our old ways and Tess is clearly a perfect addition to Alex's life and a hell of a lot of fun to be around.