Egypt 03/2010
Table of Contents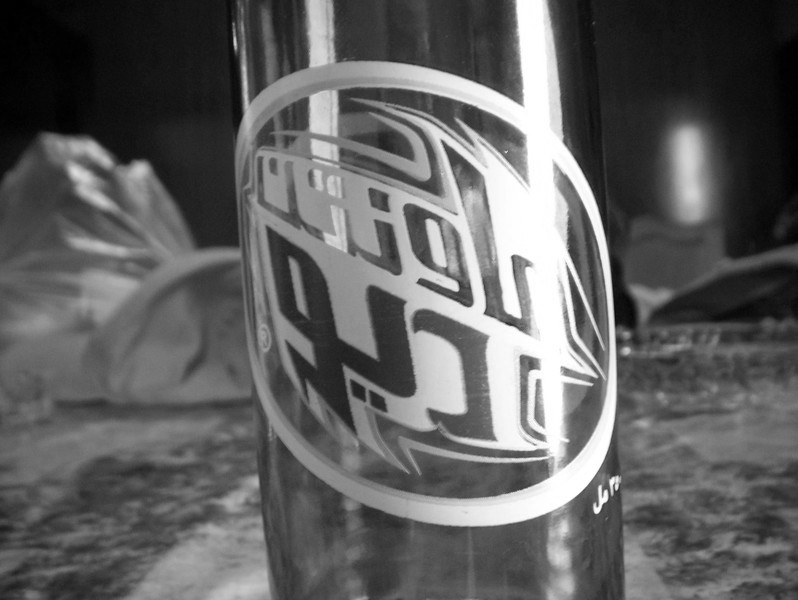 I've always wanted to go to Egypt. When I was a kid, my class went to what I recall being the "Ramesees Museum" - though I can find no record of any such place near Dallas, TX. I was fascinated with the world of thousands of years ago.
Later as I understood the sheer magnitude of what the Ancient Egyptians accomplished, in terms of civilization, but even more so in terms of technology, I was astonished. And having the only remaining one of the Seven Wonders of the World, it really doesn't get better. So when it was time to start traveling around Europe, I knew that despite not being in Europe, Egypt was a required destination.
For this trip, I my friends Aaron and Felipe along, and I'm glad I did. Not only is Egypt much easier with other people, but we also just had a lot of fun together.
Sadly, Rick Steves, whose travel books are my favorite tour guides in the world, only covers Europe. Therefore, we did not have the excellent guidance of Mr. Steves on this trip. Instead, I invested in Fodor's Egypt guide book. Fodor's gave us a lot of good information and certainly was a required instrument - but at each step I missed Steves' insights and naration.
Arrive in Cairo and it's instantly obvious you're in Egypt. It didn't take long to acquire some Egyptian Pounds, directions, and a cab.
Our hotel was not marked, at a very difficult corner to get to, and was only the top two floors of a tall building - all factors that meant our cabbie drove around for quite a while trying to find our hotel. Add to that the fact that our hotel had sent a driver for us (I'd thought it was the hotel in Luxor that was sending one, oops), and it was a fairly comical start to our trip.
We'd reserved a double and a single (3 singles were unavailable). However, they're idea of a double was an enormous room with 5 beds and a fairly large table in the middle. The single room was also pretty large and had 3 beds in it. Given this we asked if we could take just the double - we clearly did not need all of that room for the 3 of us. They said they'd talk to the owners and see what they could do. We got directions to the Khan el-Khalili Bazaar (it was late afternoon and it seemed a good place to start with given most 'sites' would be closing already), and they said it was too long to walk and we should take a taxi.
We found it difficult to find a taxi, and decided to walk around. After wondering through nearby streets and generally enjoying the city, we found a place to buy a map and realized we were actually pretty close to the market, so we walked the rest of the way there.
The Cairo market is, as you might expect, absolutely insane. It's several blocks in either every direction - on both sides of the freeway. Every street is wall-to-wall packed with bodies. The streets are packed with people selling all varieties of junk. One thing that stood out in particular was the inordinate number of people selling remote controls. Remote controls for every TV, VCR, DVD player imaginable, plus countless universal remotes. Hundreds of remotes available for nearly nothing. It's not clear why people would need so many remotes but it was - by far - the most common thing sold in the market. Counterfeit DVDs, no-name video game systems, 10-year-old real video game systems, and clothes galore, were among the other things sold.
A few pictures helps but really can't show quite how chaotic the market was.
We found a few interesting things as we walked around... these bear seat covers were awesomely tacky.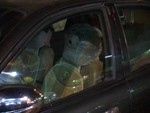 This light shop was really cool.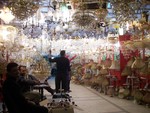 This view of the freeway cutting through the middle of the market is pretty amazing. The part of the market visible here is probably the least crowded of any.
As you might imagine, trademarks aren't very respected in this part of the world...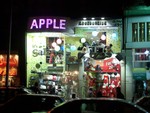 I was surprised to see this at a small kiosk!
It did not taste the same at all. I had suspected this might be the few years of rust that had built up under the metal cap, but I tried a second, non-rusty one later on the trip and it tasted just as ... not-Mountain-Dew-y.
After over an hour wondering through the market on both sides of the freeway, we decided it was time to head back and find food. Walking towards our hotel, I looked up food, and the book recommended Cafe Riche near us, so we headed there. Despite being touted as popular with locals in the book, this was clearly a tourist spot. We didn't spot a single local. Nonetheless, the restaurant wasn't all bad. I had kebabs, Aaron had rabbit, and Felipe had roast beef. The bread they served was fantastic, the dinners less so. The kebabs were pretty good, but apparently that was the exception.
We had an early pyramid tour in the morning and we were all tired, so we decided to call it an early night. Returning to the hotel, they gave us 200 lbs back, most of the cost of the single room. Score.
The hotel had asked us what time we wanted breakfast at the morning, and we said 8:30. They told us they'd bring us breakfast in our room at 8:30 - now that's service. We were up at 8, but at 8:50 we were wondering where our breakfast was. It turned out they were waiting for us to tell them we were ready.
While we waited, we took some pictures of the city - we had a great view from our room.
Around 9:15 we got a 1-egg omelet each, plus rolls and Egyptian bread (similar to pita bread) - not bad for an included breakfast in this part of the world.
Our tour guide showed up just before 9:30 and took us down where a van and driver were waiting for us. It turned out that neither of these people were the tour guide - just the driver and the "introduction" guy. The driver dropped off that guy after he explained we'd pick up our "Egyptologist" in Giza, on the way to the pyramids.
Our Egyptologist (actually, she has a degree in hotel management, not Egyptology, but she knew her stuff pretty well anyway), was a very nice lady who spoke excellent English. We told her we wanted to go into a pyramid, preferably The Great Pyramid (the biggest one)... but when we got there tickets for that one were sold out. We acquired tickets to the Giza Necropolis (the area with all the pyramids), plus tickets to enter the Pyramid of Khafre (the second largest pyramid).
The pyramids. There's so many things to say, yet nothing could ever describe them accurately. Go see them. Seriously. They're the only one of the 7 wonders of the world left, and they definitely deserve to be on that list.
For starters - the pyramids are huge. Really, really, massively, enormously big. You know they're big, but you don't expect them to be this huge. They outside walls are in "steps," not flat/smooth - another thing we didn't expect - but this is not how they were back in the day. The top layer has worn off in the thousands of years since they were built, and that was the layer that filled in the steps and made a smooth flat surface. At the very top of the second pyramid, some of this layer can be seen.
Our first stop was The Great Pyramid. This structure is 3.2 million stones! As impressive as that is, it's far more impressive when you find out that each stone weighs more than a tonnes with the biggest ones weighing between 25 and 80 tonnes! Only 100,000 workers build this. In a time without cranes, hydraulics, and the like, that's just mind-boggling. Human ingenuity... wow.
Our next stop was the Pyramid of Khafre, which we had tickets to go inside. This one has some of the top layer left at it's peak.
This one is also very impressive, and only slightly smaller than the first. We went inside, but Felipe chickened out a few steps in and left. It's a short and narrow passage way: short enough that you're crouching most of the time. You go one level down, then down a hallway you can stand in, then one level back up another short-and-narrow passage, and your in an empty room with a concrete sarcophagus (a concrete box they put the sarcophagus in, technically; I don't know if there's a separate name for this).
While the room itself isn't all the impressive, the fact that you're standing in this burial chamber of a royalty from Ancient Egypt - Pharaoh times - is just... indescribable. It's such a surreal experience. But don't worry, there's something to bring you back: the Italian archeologist who discovered the pyramid wrote his name in paint on the wall. It seems 'tagging' isn't limited to gang members. This scribble on the wall ("Discovered by.... on..." in Italian) is quite big and very out of place in this ancient world.
Back down the narrow path, and back up the narrow path, and we were out of the oppressive air of the sealed-off pyramid and back into the oppressive sun of the Egyptian desert. The air outside felt like air-conditioning by comparison.
Looking back at The Great Pyramid, from the Pyramid of Khafre where it's a bit easy to get a good angle...
After an appropriate amount of ridicule directed at Felipe for chickening out, we carried on. But this time we got into the van. The distance to the Pyramid of Menkaure (the third pyramid), was much larger (though completely walkable) than the distance between the first and second (which are directly next to each other). However, that didn't matter since you cannot go up to the Pyramid of Menkaure anyway. As you drive by it at a distance, you can see just a tiny bit of the red granite top-layer that's left just above the entrance. Most of it is long gone.
We passed the Pyramid of Menkaure and came to a stop at a plateau overlooking all 3 pyramids for some photos. After we took our own, our tour guide took individual and group photos of all of us with pyramids in the background. She even took time to line up specific shots, and shoo other people out of the way so they wouldn't be in the photo. She was pretty awesome.
At this plateau was a place to take camel rides. While we'd been warned by both the book and the hotel that this was an expensive place to find a camel ride and an easy place to get ripped off, our tour guide had arrangements with some of the folks and got us a good deal. They took us down a cool path where we could take pictures of all 9 pyramids (the 3 main ones, and the 6 smaller ones), and came back - the whole thing taking about 45 minutes.
Camels are tall. Like, really damn tall. To get on the camel, the "owner" forces the camel to sit down and fold its legs underneath so it's as low as possible. This is done via a bizarre series of hisses directed at the camel. Even in this state, it's a climb to get up onto the camel. Once you're situated, a different hissing ensues until the camel reluctantly stands back up, at which point you are thrust very quickly, very high into the air. Like 3 stories up. They're very, very tall. Sadly, it doesn't appear the camels - at least the ones used for tourists - are well taken care of. Most of them had various sores and minor wounds that had not been tended to, and were clearly tired and unhappy. But they did drag us into random parts of the desert and back, following the camel-ride-guy who was on foot. Interestingly, on the way back, he did not lead the camels, and that was mostly up to us (he would tell us how to direct the camel left or right to stay what was vaguely a path of footsteps in the sand. He did step in once when Felipe's camel strayed and he couldn't correct its course. Having to direct the camel was really quite awesome.
On our way out, Aaron and Felipe were in front with the guy leading them, and my camel was tied to the back of Aaron's camel.
We got some really cool views of all 6 pyramids coming into view as we walked to the "picture spot."
Then after we'd each taken our photos from the "perfect spot" (though still on top of our camels)...
...our camel-guide went super-photographer on us.
At that point we drove over to The Great Sphinx. We passed, again, the third pyramid, and I prepared with the biggest zoom my camera had (the road passes it a fair distance) to see if I could capture the red marble around the entrance.
Sadly you couldn't get all that close to it, but it's restoration is still underway. Nonetheless, it's quite stunning.
Looking back at the pyramids to give a sense of perspective and distance...
We went into The Sphinx Temple (to be clear: the old one, there are two), and up to the "causeway" that goes by the Sphinx. From there we were level with the sphinx head, which was great. Within the temple was a place people throw money for luck, like a well, but not. All the indentations on the floor in the 3rd picture are where statues of Gods were, and the picture of the floor shows the expensive marble used.
From the top we could see the sphinx much closer.
At this point the guide suggested a variety of things to see, of which we decided we wanted to see the Lotus Museum, which was within walking distance. Calling it a museum isn't really accurate: this place makes scents from flowers, and these scents are sold, in a very strong and pure form to the companies that make all the famous and expensive perfumes. These perfumes are diluted versions of these pure essences. The most famous one from the region is made from the Lotus flower, hence the name. Basically, they give you free tea or coffee and then a small presentation about what they do, and then let you pick any scents you might be interested (they tell you what famous perfume or cologne is made from each one), and then you can choose to buy some if you want. The prices seem expensive, but since this stuff is very pure, it's actually a good deal - if you like perfume or cologne. It was interesting listening to the process: they do some demonstrations to show how pure it is, and explain how they get the essences out of the plants. While there we tried the local drink: hibiscus tea. It's not so much tea (despite being served warm) as it is... hibiscus juice. But they call it tea. It's really a taste unlike anything I've had before. It wasn't bad, and it grows on you. For something so rich, it's actually quite refreshing. That said, I probably wouldn't order it very often.
From there we headed to the Papyrus Musem, a short drive away. Think of it as a demo/gallery/store. The walls have papyrus paintings all over. They serve you (free) drinks (soda, coffee, tea) while they do a demonstration of how papyrus paper is made and talk a bit about some of the more famous ancient art they have (... or at least have reproductions of).
Then you're free to walk around and look at the art while the nice but incredibly good salesmen encourage you to buy the art offering increasingly good deals and throwing in free stuff. They have many reproductions of famous Egyptian art on real papyrus, plus tons of stuff made by modern Egyptian artists, as I recall. Most works they have in various different sizes. They also have artists there to paint your name in Egyptian or other custom things. The salesmen were really quite impressive. Aaron and Felipe both bought several pieces (Felipe spending a few hundred dollars on 4 pieces). I informed my salesman I wasn't going to buy anything (the art was actually very good, but not the style I'd put in my home), but gladly listened as he made offer after offer. At the end, in what seemed like a sign of respect for my convictions, he insisted I take several free bookmarks and thanked me for my time. Wow.
While Felipe was in extensive talks with his salesman I sat down with our tour guide to ask questions about the rest of the day. I'd told her what sites we wanted to see in the afternoon, that we wanted a quick/small lunch, and a recommendation for a good place to have dinner. She made food recommendation, made some recommendations to tweak our plans for the rest of the day, and said she'd arrange for the driver to swing by the sandwich place she recommended for lunch, an ATM (at my request), and the drop us off at the Coptic Area - our afternoon sightseeing destination. She would be parting ways at this point, however.
When she went outside to arrange all this with the driver, we figured out what an appropriate tip for the guide and the driver would be. Walked out, thanked her profusely, and headed off towards food.
We got some tasty-looking sandwiches to go, and then headed to an ATM where Aaron and my cards didn't work, and only Felipe's Spanish card worked. Felipe would have to be the money man for a while, it seemed.
Our driver dropped us off at the Coptic Area. We walked around it - you can see one of the small streets of the very inner part of the city, and some of the outer parts of the city below.
Checking out most of the highlights from the book, mainly the synagogue, the Hanging Church ("one of the most impressive churches in Egypt"), and a few other small churches. All of these were quite disappointing. They were very tiny, with not much to look at inside or out. Here's a small church that we wondered into that wasn't either of the ones on the "list".
There wasn't much to see inside the hanging church, and it doesn't look much like it's hanging, but here's the view from outside of it.
Finding your way around the Coptic area is actually quite confusing. One guy insisted on giving us directions when we turned around realizing we'd hit the "edge" so-to-speak, and then asked for a tip. We found this generally acceptable, but were more surprised later when we asked a cop which direction something was in and then he asked for a tip.
After turning down many of the "black and white" cabs, which you're not supposed to take because they don't use meters and are often in disrepair, we found a white cab with a meter and took it to one of the "gates" of the old city. We walked around the old city some, getting lost in some of the more maze-like parts of it until we emerged at some other side through some other gate. Here's some random shots from wondering around aimlessly.
We caught a cab back to the hotel to get ready. We'd booked a dinner cruise through the hotel they'd offered us the previous night. A driver brought us to the boat from the hotel. He was nice and very talkative. He offered to "drive very fast" and "zig zag" "Egyptian style" if we wanted, "for the real Egypt experience." He said he asks now since it's not gone over well with some tourists. We gave the only reasonable answer: HELL YEAH! This guy cut in and out of traffic at a break-neck speed with truly awesome accuracy.
At the boat we all get on - driver included, and find a table. The driver than leaves us without sitting down. We order drinks and start chatting, and 10 minutes later the driver returns and sits with us, and orders some tea. We all looked at each other a bit, and then asked about the cruise: how long, where it goes, etc. Eventually Aaron asked, "Do you stay with us?" (the boat hadn't left yet, so it was plausible he was going to go do something else for the few hours we'd be on our cruise). The unexpected response was, "If you want me to? Do you want me to?" While none of us had a huge preference one way or the other, he stayed there while we sorta tried to discuss it, but you can't exactly discuss that while he's there. It was quite awkward and basically we said we didn't care one way or other. Finally he said, "I guess you'll have more fun if I leave" and promptly left. He left his tea, and we assumed he'd disembarked. 15 minutes later, however, his tea was empty. Apparently he'd come, taken it, drank it, and returned it - something only Felipe has observed. And the boat had since left the dock - so he was on the boat, but somewhere else. We felt slightly bad about this, but got over it pretty quickly.
Shortly after departure some guys came and danced, but they looked bored and weren't very good. Next up was a hot belly dancer who was quite good.
Part of her routine was going around and posing next to people while a photographer took pictures (which we could then buy later). At some point she disappeared quickly. We would later find out apparently some guy had grabbed her or something and she wasn't happy about it (our driver had overheard them talking about it an told us afterward).
We were pretty hungry at this point, but the food was not out yet... so we waited and wondered what would be next. This was of course a good point for a bathroom break, which lead, unexpectedly to a very memorable point in the trip. I got up, found the men's room, and was standing at the urinal when all of a sudden the bathroom attendant reaches over me and adjusts the water valve on the top of the urinal and says, quietly, in almost whisper, "hello." This was creepy! A few seconds later, still at the urinal, he reaches over me again to adjust the valve on the urinal! Brings a whole new meaning to invading your personal space. As disturbing as it was, it was also hilarious and I encouraged Aaron and Felipe to visit the men's room before the end of the cruise. Felipe - in usual chicken-out manner refused to. He'd never seen a bathroom attendant, and the idea in general wasn't something he was prepared to deal with at that time.
The next part of the show was a guy in a massive dress that came out. The idea here is that he spins very fast causing the dress to lift (he has pants on underneath), to a fully horizontal position. He than continues to spin for like 15 minutes while doing various other tricks with hats and boards and stuff. The skirt is highly multicolor as are his other props and the whole thing is quite the visual spectacle!
The belly dancer came back to the stage, but this time in more clothes and to do a different style of dance.
Finally they brought out the food to the buffet area and let us eat. They had chicken, beef, rice, pasta, soup, all sorts of stuff, plus a whole desert table. We had 2 helpings of food, plus 2 helpings of desert, each. It was brilliant.
While we ate a guy came out to sing. He was terrible. It sounded like a cat dying painfully. Truly awful.
15 minutes before we arrived back at the dock we wondered up the staircase to find that there was a deck up there that was open. The deck has some great views, no cat-dying-singer, and a guy selling souvenirs.
As we neared the dock, I managed a neat shot of the lights of the city.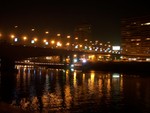 Once back on land, the driver drove us back to the hotel where we argued with the hotel guy about transportation for the next morning. Our plan was to head back to the Pyramids very early - arriving before opening - to get tickets for entering The Great Pyramid. After seeing that, we'd head back to Cairo for sightseeing around the city. The hotel really wanted to provide us a driver who would take us to Giza, and back, and then show us around the city, but we really just wanted a cab each way. After much arguing they agreed to call us a cab in the morning.
This time we were up at a painful 5:30am to make sure we got to go inside The Great Pyramid. The power went out at 5:45am. They made us breakfast which we ate in darkness in the lobby around 6:20 after "making enough noise" that they woke up from snoring on the couches.
After more arguing about a driver, they finally called us a cab around 7. Traffic was horrible, and we finally got dropped off around 8:10. Unfortunately we were down the street from the entrance and it wasn't at all clear where to go. The street we were on didn't allow car traffic any closer to the pyramid - in that direction anyway - and so he just stopped and let us get out at the entrance to the highway a few blocks from the entrance.
We walked up the street for a while, and there was an area with some horses/camels/carriages and they offered a ride up to the pyramids. We turned this down, and were a happy we did - just a few feet up the road was the entrance. We were much later than we'd hoped for - it was 8:30 and we were aiming for 7:30 - but luckily we had no problem getting tickets. We headed in and they didn't even check our Necropolis tickets this time.
After a few requisite pictures I missed from yesterday...
... we went inside. Photos were strictly forbidden inside, but I snuck my camera in and got a few anyway (one of which accidentally had flash go off). Most of them, for obvious reasons didn't come out. Those that did are pretty dark as well. In this one there's down, then up, then a latter, then a tunnel: a bit more involved, but still fairly easy.
Next to The Great Pyramid is a burial area we went to checkout. Unfortunately, it wasn't open, but it provided a great angle for some cool photos.
We skipped a few cabs on our walk down the street and found one that would drive us back to the Chaar Hashamayim Synagogue (back downtown), using the meter. While it is a bit of a drive, the trip turned out to be more expensive than we expected, and we're not sure if he took a few extra turns or not - but such is life in Egypt. The synagogue was surrounded by even more men with guns than it had been last time we walked by it, and the gates were closed. Some guy outside who spoke English explained that - as he understood it - there was a special event at 4pm, and so it was closed. The event was invite-only, as far as he understood. However, his Arabic-speaking friend was meeting him there in 15 minutes and he could confirm all that.
We decided to hit McDonald's for a snack and coffee, and by awesome luck they were still serving breakfast. Neither Felipe or Aaron had had the awesomeness of McDonald's breakfast before, so we all got Egg McMuffins. While we were finishing up we saw the guy we had met outside the synagogue and his friend and they confirmed that there was no entrance today. We double-checked their story at the synagogue and then skipped to the next item on the list: The Egyptian Antiquities Museum, which was a short walk away. Outside was a statue of someone presumably important!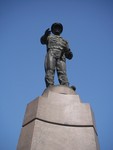 We spent about 2 hours at the museum, and while there were some great moments, overall it was a bit disappointing. King Tut's golden mask was truly the highlight of the visit. This thing is really beautiful and amazing. It defies description, and sadly pictures weren't allowed, but it's just unreal. Some of the hooked scepters where neat as well. There were two obscenely large statues that were quite cool, and also some very awesome sarcophagi. I was excited about the Mummy exhibit, but it was 100 pounds (vs only 60 to get in the museum itself), so we didn't go.
Much of the museum had so many artifacts crammed into every inch of display case that was not only a bit overwhelming, but also a bit boring. It was hard the separate the wheat from the chaff, so-to-speak.
The walk/don't walk signals in Egypt were animated and I finally had a chance to capture this.
But that doesn't quite do it justice, so here's a small video.
His speed of walking actually changes with how close the red light is coming! How cool is that!
We stopped for drinks at a stand across the street before catching a taxi to the Cairo Citadel. It was fast, cheap, and the guy didn't bother us once. A truly wonderful and rare experience in Egypt.
The Citadel is known for the large mosque inside, the Mosque of Muhammad Ali (though there are also two other mosques there), which was our destination. The mosque was really cool. It's very large, and you can see it from pretty far away.
There was a courtyard you went through before you entered the mosque.
As with all Mosques, shoes were not allowed, and that was one of the few rules actually observed and enforced in this country. Many sections were roped off, but the guards were happy to let you into them for a small tip. Unlike some places, in Egypt you don't even need to be forward enough to ask. They just come up, let you in, and then ask for a tip when you're done. It's quite a nice system when you can bend the rules for just a dollar or two. The ceilings and walls and lights were amazing - it was really beautiful and serene. As with nearly all houses of God I visit, I stopped to say a quick prayer before we headed out.
The domes and lighting were the primary pieces here.
There was some nice stained glass as well, but it was quite hard to photograph.
Under this staircase, behind the red pulpit, there's a small passageway to get from one side of the staircase to the other. A large area on the opposite side was blocked off, and this is where the guards let us go for a tip. From there they took us under the staircase to get a close look at the wall and amazing dome you otherwise had a poor view of.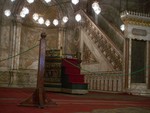 From underneath, here was thew view.

I tried to get some decent pictures of the stunning staircase leading up to the high pulpit (sermons are given from half-way up, the top being reserved for The Prophet).

This chandelier was simply amazing, I took 3 different shots to try and show it, open them all up and look at them to see what it looks like, how the lights shine, etc.

Across from the mosque was a "palace museum," which was 2 whole rooms. Between two was a very poorly kept ... area, with a lookout over the city.

The palace museum was boring, and fortunately free. There was also a military museum which was likewise disappointing. While it was fairly large, everything in it was a model. None of the guns inside the cases were real. The only things that were real were the very large guns, tanks and planes outside the front of the museum. I took pictures of the most interesting stuff... the place was really huge, so the top few percent is still a handful of photos. In no particular order...

We left the citadel and caught a cab back to the Chaar Hashamayim Synagogue once more to see if we could get in, but it was, indeed, invitation only.

We went to dinner at the place our guide had recommended, Felfela. At first, it looked incredibly touristy with the kitschy decorations on the foyer, so we walked around a bit looking for something else... but eventually settled on going there anyway. As it turned out the food was pretty good, and there were definitely locals there.

The decor was unique and fun, and part of why it initially looked very touristy. Aaron had a very typical dish in the region: stuffed pigeon. Yup. Pigeon. Stuffed. I had fata with meat (rice on pita with meat on top of that). The meat wasn't great but the dish as a whole was very tasty. Felipe had a steak which unsurprisingly wasn't outstanding. The place had some neat mini-pitas which were really great.

Once again we had to contend with a bathroom attendant, but at least this time he waited outside the bathroom until you needed paper towels (presumably listening for the sink), before coming in.

Our flight to Luxor was tonight and we headed back to the hotel, had them call us a taxi and relaxed in the lobby. The Cairo airport is not one of swift efficiency. First, security comes before the check-in counters - but they still ask to see your ticket, which you won't have, because you haven't checked in yet! Then the check-in guy couldn't find our reservation. When he finally did find it, he couldn't figure out how to do a business class check-in (business was all that was left and was only $10 more). Once he had figured that out, the ticket printer didn't work. Eventually we were on our way and stopped in their lame business class lounge. It was overcrowded (a symptom of near-free business class, I suspect) and had poor snacks... but was better than the alternative.

As if security isn't annoying enough these days, they had a second full security checkpoint in front of the gates. Yup: security, check-in, security. Awesome. We were filtered through security into a very small room which served as our gate. The room was far too small for the number of people on the flight, so it was crowded and hot.

The flight was nice... had most of the niceties from other business class flights, except they served apple juice instead of champagne. We still got table clothes and the like. The snack was bread, meat, and cheese, and an awesome cake-like object. Even the coffee was superb. There were buses to take us back to the terminal, and business class got their own, a truly awesome perk.

We arrived quite late - near midnight - and so it was pretty deserted. We asked a guard how much a taxi should be, and he said no more than 20 lbs. A sign we passed a few minutes later said that cabs were 25. There were several cabs waiting, and the cabbie wanted 65. We said no and it was 45. Then 40. All of the cabbies came into his defense, and finally we called the hotel who said 30-35. We all agreed on 35, finally. Felipe - who had made the call - told us later the hotel had said 65, which is absurd, but a sign of things to come.

When we got to the hotel, the guy at the front desk ignored us for about 10 minutes. Then, it turned out our 3 single rooms were given away - for the first night only - due to a large group, and we were given a triple room instead. The room was very tiny, and pretty crappy. The shower was just a nozzle in the middle of the bathroom between the sink and the toilet. On the bright side, we were smack in the middle of tons of restaurants and stores. Exhausted from the day we just crashed.

We were up at 6:30 in order to get to the Valley of Kings well before the heat of noon. The hotel served breakfast: something called "bilala" (?), which was warm milk and some sort of seeds, I think. They're version of porridge, probably. We were also given bread, eggs and a plain crepe.

** LOOKUP (bilala)

Around 9am we caught a taxi to the ferry - though it turns out it was incredibly close - walkable. But we only paid 10lbs.

When we got to the river, I snapped some photos...

The ferry was 6 lbs total - for everyone, round-trip. As we took our first step off the ferry we were mobbed by incredibly aggressive cabbies. After giving up on one guy who we were thinking of going with, we decided to duck into a market for a bit to get away. However, several followed us in and either followed us around, or cut us off later down some isle. Eventually I just got rude with them, I was pretty pissed.

We went back out and the guy we were originally talking to was waiting patiently for us, and agreed to drive us up to the Valley of Kings for 15 lbs. The guy put us in a cab with "one of his guys" and gave us a number to call to have a cab come pick us up later. Upon dropping us off, the cabbie gave us his cell phone number and told us to call that instead - "one of his guys" indeed.

Once we were there, we realized we might not have enough money: it was 80lbs to enter, 100lbs for King Tut's tomb, and 100 for some other dude, plus 4 for the train - each. After pooling our money, and taking out enough for the taxi back, we decided, in addition to the required entrance fee, we'd get King Tut and the train - and skip the other guy (we had to skip one of the two extra crypts).

The foyer had a model of the valley and it's contents which was interesting.

It was entirely unclear how the basic ticket worked, and we headed straight into the first tomb we came across, which was a poor choice. As it turns out, the 80 lbs buys you entrance into any 3 of the tombs, not including the "special" ones (King Tut and the other one). We had assumed there were only 3 open on a given day, but in reality there were about 15, and you had to pick your 3. The first one was the smallest and least impressive of them all, and we'd wasted one of our 3.

Between the book and various boards we carefully picked our next 2. We stood in a 10 minute line for one of them which was quite popular. Inside it was insanely hot, but the whole ordeal was worth it. There was a very long entrance with floor-to-ceiling pictographs covering the walls all the way down. At the end was a large room painted with really vibrant colors. We enjoyed it so much we ended up holding up the line quite a bit.

The final tomb we had picked was closed, so we decided to see King Tut's tomb while we were next to it. As a pleasant surprise, the tomb was air-conditioned. This was, of course, not for our comfort, but for preservation of one of the most valuable tombs in the world. His mummified body had been removed and placed in an airtight, climate-controlled case for viewing on the viewing platform inside the tomb. He was a very small guy. The walls of the tomb had great pictographs and further pictographs were on the sarcophagus.

As a replacement for the tomb that was closed we picked a tomb recommended by the book which was at the very far end of the valley: Thutmose III. When you get there you climb up a lot of stairs before entering an opening up in cliff. Then you proceed a very, very long way down. Then further down. And then down further. With each step it gets hotter and more stuffy - far hotter than it was outside. What you finally get down to is a tomb which has, instead of the normal pictographs, line drawings. Which sounds disappointing, and at first it almost is... but it's actually quite cool. They're so different from what's usually in an Egyptian tomb that it's really interesting. By the time you get to the room, you're soaked in sweat, and so it doesn't bother you so much that you're pouring sweat as you walk around looking at - and trying to understand - the stories on the wall. We compared notes, and tried to interpret various sections before climbing our way out of the steamy tomb. When you finally emerge, the hot, dry desert air feels like a cool breeze in the Spring against your soaking wet body.

Since pictures weren't allowed in the tombs, and outside the tombs was just vast desert, I have no pictures from the valley.

Having exhausted all our entry tickets, we headed back across the valley, picked up the train back to the entrance, and attempted to procure transport back to the ferry. We had decided we should try to get a cab for 10 lbs, since 15 was so easy on the way out. However, captive audiences pay more, and we argued for quite a long time just to get 15. Back across the river we located an ATM solving a major concern we were running into. We picked a lunch place from the book, called Jamboree, which was within walking distance. The place was empty but the food was pretty good and they had A/C. As it turns out (we would later find out) we were 1 block from the hotel.

We found a taxi to take us to our next destination: Karnak Temple. We should have negotiated better, but didn't and paid 25 lbs for 3km. We didn't realize it was so close and thus thought it was a better deal than it was.

The place was laid out a bit odd, and after a 10 minute walk to the gate, realized we didn't have tickets and were supposed to get them back near the parking lot. We started back, and about half way a guard ran up saying he had some spare tickets, which we bought. We were weary of a scam, but since all major sites in Egypt use the same ticket design with the price on them, it was easy to know he was charging us exactly what we were supposed to pay and we were getting real tickets.

As we entered we were offered a tour guide for 40 lbs. We thought about it, and decided to negotiate a bit. He suggested that we'd pay 40 if it was excellent, and otherwise we'd pay some subset of that as we felt appropriate. We agreed to this arrangement, and headed out. The tour was excellent, and almost an hour, I think. He was very passionate, pointed out tons of interesting things, and we really enjoyed it. We gladly paid him the full 40. Afterward we went back through to (1) take pictures of various things from the tour and (2) to venture into areas the tour didn't cover.

The temple is huge. Like, really unbelievably tall. The tower was about 15 meters thick and about 40 meters high.

Some highlights: The guy with the massive cock. As the story goes, he slept with lots of women and the other God were angry at him and cut off his leg, then his arm, and were about to cut off his penis when he agreed to change his ways. I can't find anything to corroborate what I remember of this story, but I believe the God in question is Min.

Then, while we were wondering around we founded an "off limits" section and as usual the guards were happy to let us into it for a 10 lbs tip. Finally, there was an obelisk that had been covered 3/4 of the way up by another king who didn't like it, and thus it had 2 different colors (it was no longer buried).

We got a cab back for 15 lbs, which wasn't the greatest deal, but wasn't bad either. At the hotel we switched into our 3 single rooms - of which all sucked far worse than the triple room. Felipe's room had a "shower" over the toilet. My shower leaked hot water even when it wasn't on making the whole room hot and stuffy. Aaron got the best room - the only problem was the window didn't properly close.

Here's some photos of my room and bathroom.

After relaxing for a few minutes at the hotel we caught a cab to the Luxor Museum. This was an incredibly cool museum. It was small and sparse, but awesome. The things that were there were each well selected and given their own space. No wading through thousands of relics. Each thing had a useful and interesting explanation. I don't think we spent even a whole hour there, but we all enjoyed it a lot.

We decided to walk back along the river, where we passed the coolest cross-walking sign ever.

The white things are supposed to be the sides of the road, and they move past the guy, but it looks like they are shooting out of his hands... it's like some weird "Aliens land here" sign.

Continuing on our way, we passed the Mummification Museum. We had planned to see it the next day, but decided to knock it out while we were there. This place was tiny: 1 room. It had 1 human mummy, plus a mummified crocodile, fish, baby crocodile, cat, and a ram. It also had a skull cut in half with cloth in the place of brain matter.

Then we walked through the market next to our hotel and got some souvenirs. While Aaron and I made our purchases, Felipe was taken away "to pay with a credit card." After waiting for him for quite a while we decided to go find an ATM so we could pay for diner. After not finding one we decided to head back to find Felipe. As it turned out, the guy had just brought Felipe to an ATM, so he took us on the same long hike to the same ATM.

Happily, we stumbled upon a restaurant that looked good on our way back and stopped for food. While the portions were unusually small the food was really good. When we were done the guy asked us if he would "buy something at a duty free shop for him because Egyptians can't." This smelled like trouble and we declined and left. A few minutes later, in the market, he showed up begging us and griping about how it wouldn't be a big deal. After lots of "no" he finally left us alone, and we headed back to the hotel.

While my shower was pretty bad, Felipe's was unusable, so he used mine. It turns out that other than lacking a curtain, Aaron's shower was great.

We were up at 9, breakfast at 9:30, checked out at 10:20, and on the way to the airport at 10:30. It seemed like it'd be an easy day - little did we know.

We arrived at the airport before 11 - virtually the only people in the tiny Luxor airport. The PA system had some horrible bug which made it click loudly every few seconds, and the music cut in and out constantly. This made just simply sitting an arduous task.

Our flight to Cairo was delayed by 30 minutes, and by the time we got our bags and got to the departures part of the airport, it was 2:50. Our flight was at 4, so we decided to grab a quick bite at Burger King - we were all starving and weren't sure if there was food behind security. We scarfed down our food and checked in at 3:10 at which point the guy announced to us "you missed your flight." What?! I explained our flight wasn't until 4, and we had 50 minutes. He responded curtly noting that check-in closed 10 minutes ago, so we missed our flight. Note that nobody was in the airport, and since security is before check-in in the insane house of Cairo airport, there was no reason we couldn't have been checked in. But he refused and directed us back outside security where we could "talk to a ticket agent to buy new tickets, if we'd like."

Fumingly mad, I took a few deep breaths and we went to Austrian Airlines customer service counter and explained the situation. He nonchalantly told us there was nothing he could do. I asked about getting on the next flight and he said because our tickets were non-changeable he couldn't do that, oh and by the way, the next flight, which was in 2 days was booked, so the soonest opening was the Saturday flight. Fuck that.

Next, we headed off to Egyptian Air's customer service counter since they were late. However, since they had no way of knowing our other flight (round trip Zurich to Cairo and back was one flight, and round trip Cairo to Luxor and back was another), there was nothing they could have done. We asked if they could talk to Austrian or do anything, and she said that she didn't believe what Austrian said about the non-changeable tickets, we should be able to pay the difference to a changeable ticket and get it changed.

Back at Austrian, much arguing later, he still refused. He explained we could go into town and talk to their main headquarters if we wanted. Exhausted we made the rounds of every airline's ticket counter to find the soonest flights home. None were encouraging, so we called our friend Pierre to look online. Since Felipe was flying to Madrid the next morning anyway, he just bought a direct flight to Madrid from Cairo, but Pierre bought Aaron and I the first flights out at 10:30 the next morning, for $600/person. At this point, we went up to the cafe to settle for 20 hours in an airport.

At dinner time we surveyed the options and decided that another round of Burger King was our best bet, and then went back to the cafe to take them up on their offer of taking over their couches for the night. We setup "camp" near the TV on the couches, and drank coffee and ate snacks most of the night.

Massive pyramids built from stones weight up to 80 tonnes, camels, golden masks, sarcophagi, mummies, belly dancers, papyrus, tombs, giant temples, and animated pedestrian crossing signs... Egypt has everything I imagined and so very much more.

Egypt, however, requires patience, negotiating, and perseverance. I'm incredibly grateful to Aaron and Felipe for coming along - the trip was not only easier, but infinitely more fun with them around. Thank you both.