Dublin 04/2009
Table of Contents
I went to Dublin for business for a week. I was there from Wednesday, April 15, through Wednesday, April 22. This gave me a weekend to do some sightseeing.
I stayed in a corporate apartment just behind the office which is in the Gasworks district. This is about 3km from the Temple Bar area, if you're familiar with Dublin.
This documents the two days of sightseeing I did in Dublin.
I was up at 9am for a full day of sightseeing. I headed out and walked towards the city center. I found a small cafe to have lunch in and got a bacon sandwich which was pretty good. I had a reservation for one of the hop-on-hop-off bus tours and was near both a bus stop for that as well as Trinity College. I decided to hit up Trinity College first and see the Book of Kells. Unfortunately, no photography was allowed so I only have a picture of the courtyard.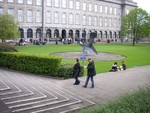 The Book of Kells was reasonably cool. It's in a glass case, and there's someone in the room at all times watching you. They allow about 10 people in at a time. When it's busy, apparently they time limit each 10 and make them all enter at the same time and leave a few together a few minutes later. Fortunately they weren't doing that when I was there since there wasn't enough room around the case for everyone to get a decent view and it took me quite a while to get a decent view of both sides.
A few people tried to sneak photographs but were yelled at by the book-minders.
Having seen the book I tried to jump on the hop-on-hop-off bus, but my reservation was not sufficient. The driver explained I had to walk down the street to one of their offices in the tourism center and exchange my reservation number for an actual ticket. So I went to the tourism center, got my map, a card to swipe on the bus, etc., bought some water and headed out.
I got off the bus at Dublin Castle around 12:30pm. It was very quiet, and the next tour was scheduled to start at 2pm. I managed to slyly catch the tail end of another tour, and then wondered the gardens in the back before coming back to the main building for the 2pm tour.
The tour took us through the castle, including pointing out where various important meetings had happened, and bit of the history of Ireland. It was an excellent tour, I highly recommend it. The castle has some truly brilliant art in it. While photography was allowed, unfortunately, flash was not. As such not all of these pictures came out as well as I'd have liked.
After the inside of the castle they took us underground. I don't remember the details, but I think after a fire or an attach they were digging around and found the foundation of one of the original towers that had since been built over. They chose to preserve it, and here it is.
The tour finished around 3pm and I took a few parting pictures before heading back to the bus stop.
The next stop I got off at was stop for the Jameson Distillery to see St. Michan's Church which was nearby. St. Michan's is famous for it's many mummies which i was very excited to see! Unfortunately it was closed on weekends. I got back on the bus and got off at the famous O'Connell Street. O'Connell is a very large street with shops, restaurants, theaters, etc., and one of Europe's widest streets. There was a massive steel pole in the middle of the street which I didn't understand. It turns out this is the Spire of Dublin - the world's tallest sculpture at 390 ft (120 meters) high. There was also a Quiznos which reminded me of home, and the Garden of Rememberance, a really beautiful memorial to those who died in the fight for Irish freedom. Finally, I saw a ... get this, Carphone warehouse. It was clearly a mobile phone store - but carphones kinda died in the early 90s - it's a bit of an odd name for a store.
After walking around for a while, I jumped back on the bus and took it to the stop nearest my apartment. Unfortunately it's not that close, but it was walkable.
I relaxed at home for about a half hour and then jumped in a taxi and headed to the Temple Bar area. Temple Bar is a street with lots of bars and restaurants. I walked up and down the street several times surveying my food options. Generally speaking, I travel alone often enough that I really don't mind eating along in a restaurant - however, the atmosphere made it a bit difficult to find a place that I felt comfortable eating alone at. I finally settled on the Gourmet Burger Kitchen (you won't see the Dublin location on the site since they're only in Ireland by franchise).
GBK, as you would guess, specializes in burgers. As I told the waitress, it was the best burger I'd had since I'd moved to Europe. I believe I had the Garlic Mayo burger. Yum.
Food acquired, it was time to explore the famous Irish pub scene. I walked around surveying the pubs, and passed a hen party (that's a bachelorette party, for my American friends) dressed up as various characters - a ninja turtle, a princess, etc. And I didn't have my camera on me! Damn. I decided to hit up the pub the hen party was in, and the guitarist was taking requests, and there was lots of signing to the American music, lots of dancing, and lots of fun. So I found my way into the crowd and danced and sang for a while until the live musician's shift was over.
Most of the girls' costumes were fairly revealing, except the ninja turtle - and as such she wasn't getting much attention, but was very cute. So I asked her name and bought her a drink, as one is wont to do in such a situation. Her friend - the only extremely large girl of the group - had, I think, decided she didn't like me. She'd tried to distract her once or twice unsuccessfully, but then found some other guy to get her talking to and I was left hanging. Ah well, I'd had a shit load of fun, and was in a good mood. I decided to head home on a good note and get some sleep. Tomorrow was another early day of sightseeing. I headed out and found a cab back to my place.
Again, I was up at 9am, but this time I took a cab to Grafton St. rather than walking into town.
Grafton is another famous shopping street in Dublin, but more upscale than O'Connell. Not much as open at this time on a Sunday morning, but I found a cafe and sat down for some breakfast. I read my book and had a ham and cheese croissant and some coffee. They're coffee was pretty fantastic, so on my way out I ordered a cappuccino to go.
At the South end of Grafton St. is St. Stephen's Green. It's a large park, and quite beautiful.
Across the street from St. Stephen's Green was a very odd sculpture.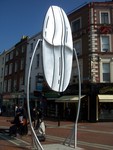 At this point, Grafton St. was starting to pick up.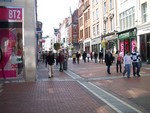 I headed back up Grafton St. heading towards Christ Church Cathedral which was supposed to magnificent. Unfortunately, I never found it. I ended up walking fairly far west and decided to just walk the whole way to Phoenix Park. Along the way I passed a cool comic shop which I stopped in and looked around.
Phoenix Park is quite a bit further west than I'd really anticipated, but it's doable. Along the way I passed lots of cool stuff.
Phoenix Park is huge. At 1,760 acres, it's the largest enclosed urban public park in Europe. Needless to day I didn't see all of it. I walked around quite a bit and took some pictures of a few of the gorgeous scenes I saw.
After walking around, I sat down in the main field by the monument with my ipod and just listened to music for an hour. It was a nice peaceful afternoon. The sun was shining, but it wasn't too hot. Perfect for just laying out. I then tried to read for a bit but wasn't much in a reading mood, so I got up and headed out. I hadn't really stuck to my plan today and things were going well, so I decided to continue to let the universe take me where it would. I just walked in the general direction of home. Not far from the park I tried to hail a cab which didn't stop, but another cabbie honked to let me know he saw me and he'd turn around. The cab dropped me at home and I worked on a few things while watching TV (TV in English was a really welcome change).
When I got hungry I called the pub up the street whose menu I'd looked at when I walked by and had interested me. I called them to see if I could pick up a takeout order, but they said no, so I packed up some reading material and went to head down there. But just outside the apartment building I saw a Domino's delivery guy. Oh how I miss American delivery pizza! Zurich has Domino's, but it's about $50 for a large pizza which is absurd. I checked the prices using the web browser on my phone and it was reasonable, so I headed up and ordered a pizza instead. It was pure bliss to be watching TV in English (a Bones marathon, if I recall correctly) and eating American delivery pizza at the same time! It's the little things in life.
Dublin is a beautiful city. Typically, it's always raining, but it only rained I think twice the whole week I was there. I was quite lucky that the weekends were clear and beautiful. Laying in Phoenix Park was relaxing and the sites were beautiful. I would have liked to have seen St. Michan's Church, but maybe some other time.
I also spent a lot of evenings after work at pubs with folks from the office and that was a hell of a lot of fun. The pub scene in Dublin is fantastic! The pubs aren't blasting music so loud you can't talk, there's usually a place to sit - it's really nice.
Thanks to Google for sending me and giving me a weekend to myself!